On Sunday, we introduced our new Executive Pastor, Steve Eriksson. We asked Steve to share a little about himself so everyone could get to know him better. Join us in welcoming the Eriksson family to New City!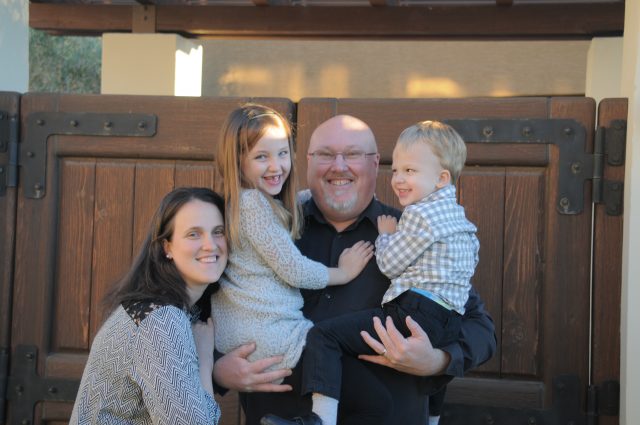 Tell us about you and your family.
I was born in Chicago, but at the age of one, I convinced my parents it was too cold and so we packed up and moved to Arizona. I've basically been here ever since. I met my wife Kirstie at church (highly recommended) and we were married in March 2007. She was a special education teacher in the Creighton School District and I was greatly attracted to the compassion and tireless effort she showed her kiddos.  Plus, she's beautiful, so that didn't hurt. We have two kiddos of our own – Elsa (7) and Ethan (4). You will undoubtedly see them running around the church like they own the place. It's one of the few benefits of being a "pastor's kid." (And for the record, we named our daughter after my sweet 102-year old grandmother well before Frozen came out.  Disney…Grrrrrr!)
Before joining the New City team, what were you doing?
I served as a pastor at Scottsdale Bible Church for 16 years in various roles – young adults/singles, spiritual formation, and most recently as a campus pastor. Prior to being in full-time ministry, I worked as an engineering manager at Motorola for six years. So, I'm basically a nerd that loves Jesus and His church.
What drew you to New City?
Wow, there are so many things. Like many of you, I love the worship, teaching, and community we experience each Sunday at New City. But maybe even more than the awesome worship experience, I became increasingly passionate about the vision of New City. Downtown Phoenix is the cultural, political, and economic center of our city, and I believe our church is uniquely positioned to bring the life-changing message of Jesus to this influential part of our city. I am a strong believer in the truth that following Jesus should impact every area of our lives—not just Sunday.  So, taking Jesus to where we "live, work, study, and play" isn't just a cute slogan for me—it's a way of life. I love that this is the heartbeat of New City. One final thing—and this will come as no surprise to anyone who's lived in the Valley more than a month—Scottsdale isn't the most diverse part of town. We're ecstatic that our family can worship and serve in a church that reflects the diversity we'll undoubtedly experience in Heaven.
Describe your role at New City. What are you most looking forward to in your new role?
I am New City Church's first "Executive Pastor." I say that because, not surprisingly, many of you have asked me what exactly this role does. We've never had one here. The easiest way to describe my role is that Brian, as our Lead Pastor, preaches and casts vision for our church. I then lead, develop, and manage the staff to implement that vision. I work closely with Brian to make sure all the various ministries of our church (Community Groups, Students, Connection, Justice/Care, Kids, Worship, etc.) are working together to fulfill the mission that God has given us. In a nutshell, Brian is the "visionary leader," I am the "strategic manager." And we both get to love on the staff and people of New City.
When you aren't at work, what can you be found doing?
We do a lot of stuff as a family – swimming, playing games, and watching TV/movies (way too much!). My kids both play soccer and I get to (well, had to) coach both teams. We have yet to win a game this season which really challenges my overly competitive nature. When my wife and I can break away from our kiddos, we usually watch TV/movies, play games, or just hang out with friends. When the budget allows, we love traveling to cool places—Tanzania, the Bahamas, Turks & Caicos, Hawaii and SoCal are just some of the places we've been together. Personally, I am furiously trying to finish my doctoral dissertation at Talbot School of Theology. In order to graduate by May 2018, I need to spend most of my days off doing school work (Ugh!).